Historical Video Content Added to Institute's Digital Collections
Digitized 16mm film and VHS tapes include promotional videos, science education series, and a silent recording from the 1920s featuring Marie Curie.
July 20, 2022
The Science History Institute is pleased to announce the addition of historical video content to our digital collections. Users can search this new media format by keyword, using the "moving image" format filter, or by browsing the new 16mm Film Collection and VHS Collection.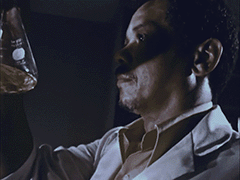 While footage is still being digitized, some of the gems you can watch now include a 1999 promotional video of the Institute (formerly the Chemical Heritage Foundation) celebrating our renovated facilities at 315 Chestnut Street in Philadelphia; an engaging three-part lecture series from 1957 by biochemist Linus Pauling teaching the basics of molecular structure (screenshot above); a silent film shot in 1928–1929 that features a rare cameo by Nobel laureate Marie Curie receiving an honorary degree from Saint Lawrence University in Canton, New York; and an American Chemical Society video from 1977 showcasing a chemist's skills in the lab.
The addition of video content comes after several months of diligent work by our digital collections team and increases the number of curated items the site currently houses to more than 12,850.
Other materials in our digital collections include rare and modern books, manuscripts, photographs, advertisements, oral histories, scientific instruments, glassware, and fine art reflecting the history of science from the Roman Empire through the 21st century. Launched in February 2018, new items are added on a regular basis, often with an eye towards specific anniversaries or historical milestones.
More News
Wyatt Technology founder to be recognized at 2024 conference in San Diego.
Nobel laureate Roald Hoffmann kicks off this engaging program with a talk on November 16, followed by an expert panel discussion on plastics on December 6.
Q&A session, award presentation, and reception to follow Stanford professor's 'Sweet Revenge on Cancer' talk being held October 17.